Make plans now to stand up against domestic violence on Oct. 20
Join us to discuss the cycle of violence in a domestic violence relationship on Thursday, Oct. 20 from 6:30 to 7:30 p.m. in the Gamache Theater at Flagler College — located at 50 Sevilla St.
The event is free and open to the public.
A broadcast TEDx Talk by Leslie Morgan Steiner (pictured above), author of Crazy Love, will be followed by a panel discussion and a question-and-answer session with the audience.
Betty Griffin Center is hosting the event, along with The Golden Way Films that Make a Difference, Grace United Methodist Church, St. Augustine Film Society, Flagler College and Compassionate St. Augustine.
This is part of a series of events in October highlighting Domestic Violence Awareness Month (DVAM).
Update on DVAM 2022
"Together, we stand with a clear, unified message: Survivors, we are here for you."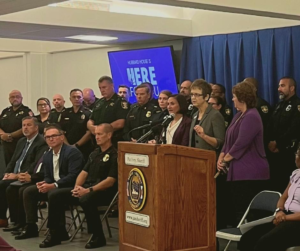 Hubbard House CEO Dr. Gail Patin, joined with community partners including Betty Griffin Center CEO Kelly Franklin (pictured at the podium, at right) to launch this year's DVAM campaign, #HereForYou, and to release information on domestic violence-related fatalities right here in our community.
In 2021, 18 victims were killed by domestic violence in Jacksonville. They had partners who were supposed to love them, but instead ended their lives.
We must all join together in supporting survivors and unify in our vision to see every relationship violence-free.
(Left to right) Jennifer Y. Rodriguez, CEO Quigley House, Gail Paton, CEO Hubbard House, and Betty Griffin Center CEO Kelly Franklin during the media day launch for DVAM 2022.
(At right) St. Johns County Commissioners adopted a proclamation designating October as Domestic Violence Awareness Month in the county.