Donate by Check
Checks made payable to: Betty Griffin Center
Mailing Address:
2450 Old Moultrie Road, Ste. 202
St. Augustine, FL 32086
General Donations
Your donations will allow us to continue to reach more people in our community who are in need of our services. We cannot thank you enough for everything you have given and continue to give. Thank you so much!
In-Kind Donations – You can make in-kind donations of clothing, accessories, household items and furniture to our thrift shoppes (Anastasia Square and Julington Square)
Donate Stock, Bonds, Equities, Real Estate – If you donate these items, you may avoid tax on the appreciated value while receiving a tax deduction.
Bequests – Designate Betty Griffin Center as a beneficiary in your will, property, trust, IRA, retirement or insurance plan.
Cash – Simply write a check to 'Betty Griffin Center' and mail it to 2450 Old Moultrie Rd., Suite 202, St. Augustine, FL 32086; or charge a one-time or recurring donation through the Donate button.
Charitable Trust and Deferred Gifts – Establish a trust which benefits Betty Griffin Center and may provide you with income as well as substantial tax savings.
 Donations In Honor or In Memory – Send a donation in honor or in memory of a special friend, occasion, or anniversary. We will be glad to send an acknowledgement for the gift to the person of your choice.
 Matching Gift – Does your employer match charitable donations? If so, ask your employer to match your donation to Betty Griffin Center and double or triple your impact.
Gifts and Legacies
We would be happy to help you coordinate any gifts or legacies you choose to benefit the Betty Griffin Center. Please be aware that we are not tax experts and are not familiar with each individual's tax situation. Therefore, we advise you to consult your financial, legal, or tax advisor about the specifics of your donation.
The official designation should name the Safety Shelter of St. Johns County, Inc. d/b/a Betty Griffin Center as beneficiary.
Betty Griffin Center is registered with the Florida Department of Agriculture and Consumer Affairs: Our registration number is CH2886.
Betty Griffin Center is a non-profit 501(c)3 organization, Federal Tax ID #59-3028497.
Donor Privacy Policy
Updated December 6, 2021
Betty Griffin Center will not sell, share or trade our donors' names and/or personal information with any other entity, nor send mailings to our donors on behalf of other organizations.
This policy applies to all information received both online and offline, on any Platform ("Platform", includes the Betty Griffin Center website, Event Ticket Sales, social media and other mobile applications), as well as any electronic, written, or oral communications
To the extent any donations are processed through a third-party service provider, our donors' information will only be used for purposes necessary to process the donation.
We reserve the right to change this Privacy Policy from time to time. When we do, we will note the latest update here
Betty Griffin Center Receives Second Consecutive 4-Star Rating from Charity Navigator
We are proud to announce Betty Griffin Center has earned a second consecutive 4-star rating from Charity Navigator. This is the highest possible rating from the independent nonprofit rating agency, which indicates our agency adheres to sector best practices and executes its mission in a financially efficient way.
Attaining a 4-star rating verifies that Betty Griffin Center exceeds industry standards and outperforms most charities in our area of work. Only 32 percent of the charities it evaluates have received at least two consecutive 4-star evaluations, which also indicates that Betty Griffin Center outperforms most other charities in America.
This exceptional designation from Charity Navigator sets Betty Griffin Center apart from its peers and demonstrates to the public its trustworthiness.
For additional financial information, please review to our most recent financial statements:
990 Financial Statement for 2017
990 Financial Statement for 2018
Audited Financial Statement for 2018
Audited Financial Statement for 2019
If you have questions about your gift to Betty Griffin Center, or for more details on the above mentioned gift options, please contact Kenlie Kubart at (904) 808-8544, ext. 207, or email her at kenliek@bettygriffincenter.org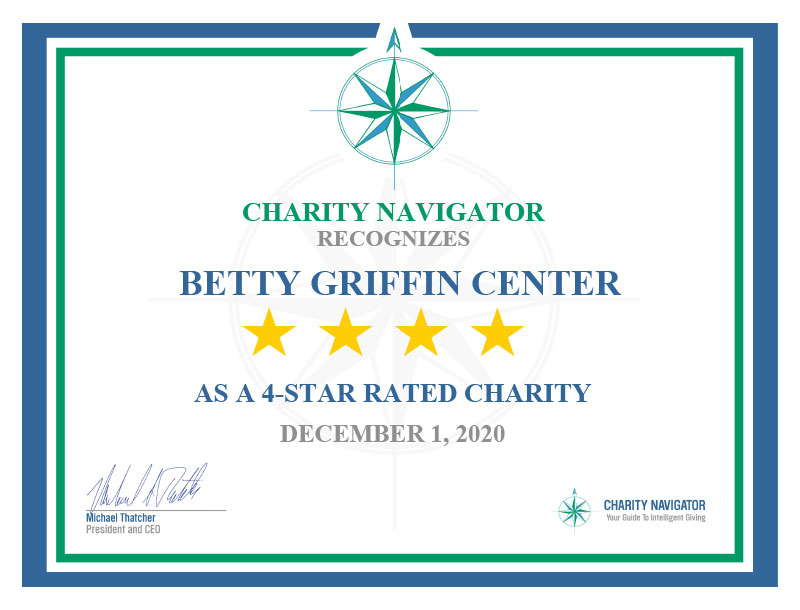 Outreach Office:
Betty Griffin Center
2450 Old Moultrie Rd, Ste. 202,
St. Augustine, FL 32086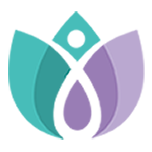 Follow Us